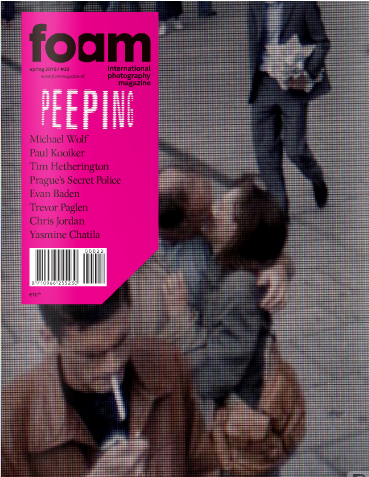 Daniel O'Gorman, visual researcher, is now officially representing FOAM in Ireland. This put simply means that finally, and given the time, we will be able to buy FOAM at our local newsagent… The press release:
"We are proud to announce we are now representing Foam Magazine in Ireland. Foam is available to order through us by emailing publications@danielogorman.com and will be making it way to gallery/art book stores in Ireland soon. If you are a retailer and want to talk to us about stocking Foam please talk to us at publications@danielogorman.com. We will be opening an online publications store later this week with more titles to be anouncements to come.
Foam Magazine is a quarterly publication that sets itself apart with its generous 16 pages of portfolio space that it allots to each of the eight contributing photographers. Each portfolio is printed on a different type of paper, carefully selected to enhance the photographic image, and is accompanied by an essay or interview of an acclaimed author. A quarterly theme challenges the reader to see the portfolios in a different perspective. It defines surprising common grounds between the different photographers' varying styles and genres.
In addition, Foam Magazine reveals six images that have been on the minds of various eminent figures in the cultural world and reviews the latest photography publications. The result is a highly appreciated magazine within the international photography world. Both professionals and contemporary art lovers regard Foam Magazine as a timeless collector's item used for inspiration and reflection.
'We would like to stress that Foam Magazine is one of the finest photo magazines that exist internationally, with good quality content and wonderful graphic design. It is a real pleasure to look at and read.' – Julien Frydman, director magnum Photos, Paris."
All I can say is FANTASTIC!!