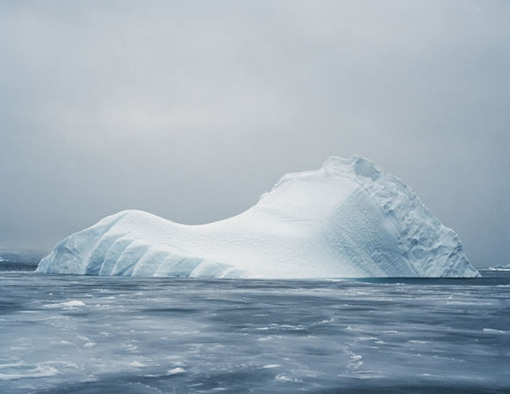 3rd September – 7th October 2008
MICHAEL HOPPEN CONTEMPORARY
3 Jubilee Place, London SW3 3TD
www.michaelhoppengallery.com
Tues-Fri 12noon – 6 pm . Sat 10:30am – 5pm
"On my first trip to Greenland, I was told I would definitely be coming back. According to a Greenlandic tale, a human being can turn into a qivigtoq, run around the fells, live there and finally die there. My desire to return to Greenland goes beyond reason. On one of my trips there I tried to shake off this madness and leave wandering in the northern landscapes, like a qivigtoq. I did not succeed."
These large-scale colour photographs capture the artist's fascination with the cold, barren and infinite landscape of Greenland. Steeped in blue light many of these photographs show the human outposts, the dog sledges and brightly coloured houses, in this Ultima Thule, border of the known world.

There are no roads between towns in Greenland so travel is not easy. Itkonen journeys by helicopter, small plane, hunter's boats and dog sledge but only if the weather permits, if not then maybe tomorrow – "immaqa agaqu". She will wait for the right moment to shoot, sometimes for hours, sometimes for days, preferring to photograph when it is cloudy or foggy due to the variations in light quality.
"It is fascinating and comforting being able to see far away. No trees or tall buildings to block the view. A broad view can be hard to capture in a single frame. The picture does not tell what is far and what is near, nor what is large and what is small. An iceberg is the size of a house of flats. An island that looks like it is two kilometers away is actually ten times further. Even my eyes cannot tell these things."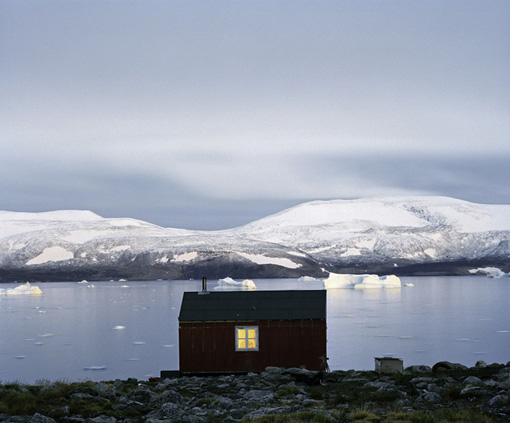 As global warming closes in on Greenland the shrinking glaciers reveal new land masses, the winters are milder and the ocean does not freeze for long periods. At Illulissat, where many of these photographs are taken, the ocean has not frozen for years and the ice in northern parts of Greenland is getting thinner. The ice now only supports the weight of a man for a few months a year, putting hunters and fishermen with their dog sledges in danger. This makes Itkonen's photographs more poignant – she is now capturing a vanishing landscape.
Tiina Itkonen (b. 1968) lives and works in Helsinki where she studied photography at the University of Art and Design. Exhibiting in Finland and abroad since 1996, Tiina's work has most recently been seen in Switzerland, Germany, Norway and England. Her works are held in collections at the Moderna Museet in Stockholm, Fundacio Foto Colectania in Barcelona, Helsinki City Art Museum, the Finnish State Art Collection, DZ Bank in Germany and the Saastamoinen Foundation Art Collection/EMMA amongst others. Winner of Finnish Young Photographer of the Year 2003 and a Fotofinlandia finalist in 2004, Itkonen has been photographing Greenland for the past ten years and her first book, Inughuit, was published in 2004.
Portraits taken in Greenland between 1998-2002 by Itkonen will be exhibited at the Scott Polar Research Institute, University of Cambridge, from 3rd September to 8th November 2008. www.spri.cam.ac.uk/museum/